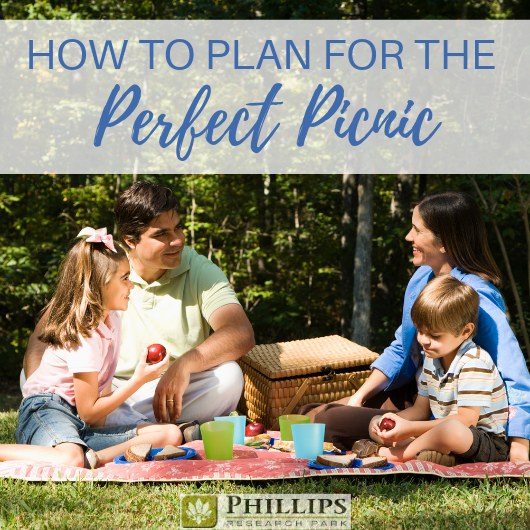 Spring and Summer bring the perfect weather for a large variety of outdoor activities. Every Durham apartment makes an excellent home base for everything from baseball games to hikes in the woods. Do you dream of hours spent soaking up the warm sunshine? How about tossing a Frisbee with family and friends? Then a picnic is just what you need!
In this blog post, you will find everything you need to pack the perfect picnic basket for your next day at the park or on the lawn right outside of your Durham apartment.
Picnic Blanket
From a flat sheet to a specialty waterproof blanket, there are a lot of choices when it comes to a protective barrier between your picnic and the ground. Since your picnic blanket will be on the ground, be sure that you are willing for it to get dirty. If you are planning your picnic for a picnic table, you may consider a table cloth.
You can pick up an inexpensive flat sheet or table cloth at one of our Triangle thrift stores. This is a handy item to have on hand. If you are ready to make a bigger investment in your picnic blanket, you may like this red and white checked option from Amazon.
Picnic Basket
A reusable grocery bag (Remember the one you got when you moved into Phillips Research Park?) will serve the purpose for your meal outdoors. Or perhaps the traditional wicker basket is more your speed. Either way, you will likely need some kind of container to carry your picnic goods. Your picnic basket or bag will also be responsible for carrying utensils, plates, cups, napkins and more, so be sure to think through your picnic plan.
If you picnic involves a bottle of wine, be sure to pack a wine opener and non-breakable glassware. A knife may be needed if you are planning to serve a block of fresh sliced cheese and pepperoni.
Picnic Food
Yummy! Everything tastes better on a picnic. Don't you agree? From peanut and butter sandwiches to cheese and crackers, there are so many delicious picnic delights to consider. Pinterest is an excellent place to get a plethora of picnic ideas. Here are a few of our favorite Pins for grub that will have your friends and family ready for the next picnic.
Cooler
A few of those yummy picnic foods are going to need to be kept cool. Depending on your picnic party size, you may need a small or large cooler. If you don't have a cooler, you can pick up a small Styrofoam cooler from most grocery stores. Or perhaps something like a Yeti floats your boat. Just like most things, coolers range in price and size. One thing to consider when purchasing a cooler is where you will store it after your picnic and how well it fits in your vehicle.
Remember, here at Phillips Research Park, we offer on-site storage units to help with your storage solutions.
Picnic Drinks
Ahhh. A cool refreshing beverage. Nothing says picnic like ice cold lemonade or your favorite beer. Pack your cooler with ice and beverage essentials. Kids love juice boxes and Capri Sun. Canned soda is always an easy way to go. If you want to impress your friends, consider a great homemade berry lemonade or wine spritzer. Each are sure to cool you off and pair perfectly with your other picnic goodies.
Whatever you do, don't forget about WATER! The last thing you want to do is ruin your day by getting dehydrated. Pack plenty of water for your day outdoors and be sure to encourage your picnicker to drink up the H2O.
Bug Spray
Being outdoors may mean that you encounter a few of nature's critters. Mosquitoes and gnats are par for the course for many picnics. But you don't have to let them "bug" you (LOL! Get it?!). Take a bottle of bug spray with you on your picnic to keep the pests away.
Sunscreen
As with all outdoor activities, you must protect your skin from harmful UV sunlight. No one wants a sunburn to remember their day at the park. Children and those with sensitive skin need to take special care of their skin. Be sure to apply sunscreen to all exposed skin, including the back of your neck, face, and ears. And if you are wearing flip-flops, don't forget to add sun protection to the top of your feet. Even your scalp where your hair is parted can become sunburned.
A hat and sunglasses are also nice items to have along to help against the sun. If you think that the weather may turn cool, you may consider taking along a jacket or sweater.
Rain Day
What happens if your perfectly planned picnic gets rained out? Instead of disappointing your crew, take your picnic indoors. Spread your picnic blanket out on your living room floor, enjoy your spread, and play a few indoor appropriate games. Then, the next time the sun is shining, you can reschedule your outdoor plans.

---
We encourage all of our residents to take advantage of our beautiful grounds all year long. We have barbecue grills, picnic tables, and lovely outdoor seating around the pool. And don't forget, our floor plans offer spacious apartments that are big enough to enjoy the best indoor picnic!