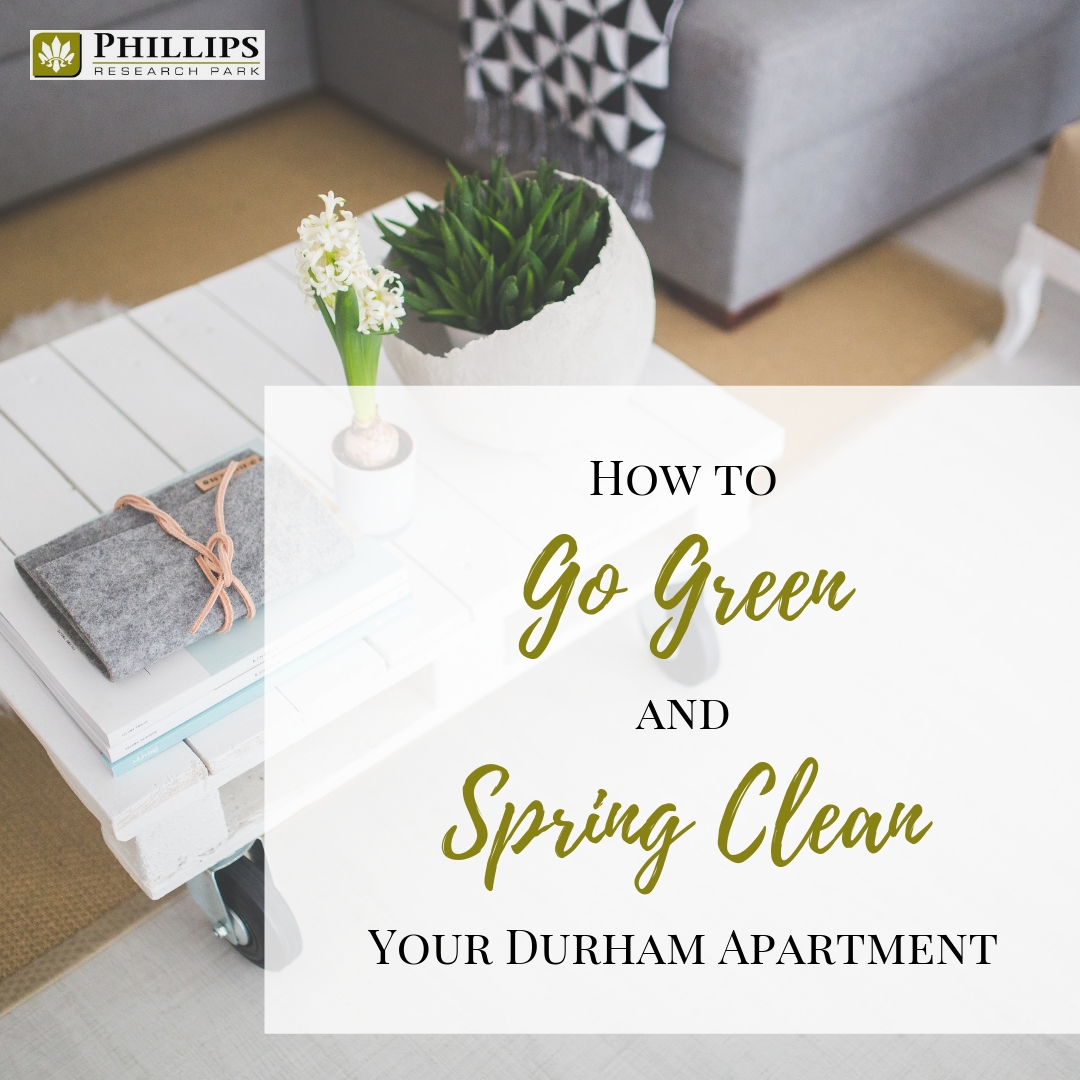 You may be ready to start your spring-cleaning chores, especially since we have sprung forward with Daylight Savings Time. Yet, if part of your resolutions for 2019 were to live a greener lifestyle, you may be wondering exactly how to proceed. Don't worry! We've got your back. You can use these tips to go green while you spring clean your Durham apartment.
Use Greener Cleaning Products
While you definitely want your Durham apartment to be sparkly clean and smelling fresh after being shut up for those long winter days, you don't want to start dumping a bunch of chemicals everywhere. Those chemicals will eventually wind up flowing down the drains, and that won't make for a greener cleaning schedule for anyone.
There are plenty of environmentally friendly cleaners that you can choose to use instead. Companies like Seventh Generation and BioKleen put out a full line of cleaning products that are easier on the environment. In fact, you can get many of these Earth-friendly cleaners through a subscription to the Grove Collaborative, then they can be delivered straight to your Durham apartment door!
If you have the time and patience to DIY your cleaners, you can find plenty of uses for vinegar, baking soda, and Borax around your house. There are some great recipes for DIY household cleaners to be found on Pinterest, like these ones by The Nourished Life.
Use Greener Cleaning Tools
The actual cleaners that you use are not the only part of the equation. You also have to use a few tools to scrub and wipe. In the past, you may have grabbed a roll of paper towels to clean every surface in your home, but when you consider how many trees were chopped down to wipe your toilet seat, you may be ready for a switch. Instead of going through rolls of paper towels, consider using a rag that can be washed instead.
Old t-shirts, raggedy bath towels, and even a cut up old sheet can be used in place of paper towels to good effect. While sponges are technically reusable for a short period of time, they do tend to breakdown fairly quickly. Switch to a scrub brush instead which will last much longer. If you can find a bamboo scrubber instead of a plastic one, even better!
Don't Trash the Clutter
It is a very admirable practice to attempt to declutter your Durham apartment during your spring-cleaning mode. However, you need to make sure that you don't just throw all of your unwanted items in the trash. Clothing or other household items can be donated to a thrift store or the Salvation Army. Papers should be recycled, and even your old electronics can be recycled as well. Try to keep as much as you can out of the landfills. There is almost always a way that an item can be reused or recycled.
Certain items should definitely not be thrown away as they are toxic, and you probably have more than one of them laying around your home. Batteries, nail polish, aerosol cans, cleaning products, medications, and fluorescent light bulbs should not be dumped in your trash can.
Change Out Your Air Freshener
When the windows have been shut all winter long, your Durham apartment can start to feel stuffy and smell a little less than fresh. You may be tempted to use an aerosol air freshener to make things smell a little cleaner. However, many of these types of air fresheners contain harmful chemicals that shouldn't really be released into the air (and probably shouldn't be finding their way into your lungs.)
Instead of using a chemical based aerosol air freshener, switch to something a little greener without giving up any of the fresh scents. Essential oils can be a great way to freshen your rooms, and there are all kinds of adorable ways that they can be added to your home.
Upgrade Your Lighting
While you are busy refreshing your Durham apartment, go one step further and update all of your lightbulbs. Switch out your old incandescent bulbs for compact fluorescent bulbs or LED bulbs. Not only will these lightbulbs last longer, like 8-12 times longer, but they will also cut down on your energy usage. Save money while you save the environment.

---
Spring has sprung in North Carolina! The temperatures are slowly starting to creep up, and we are seeing the occasional sunny day in between all of the rain. This change in the weather and the temperatures will likely stir that spring-cleaning feeling, and you will want to get busy cleaning up your Durham apartment. That's a great thing, especially when you go green while cleaning!
Declutter your apartment, knock off the dust, and get it smelling fresh and clean again now that winter is gone. You will be happy that you did. If you want more great green tips for apartment living, click here.